Club Custom Fitting available now! Schedule your fitting session with certified professional today!
ONLINE SERVICE & SUPPORT
(612) 216-4152
ONLINE SERVICE & SUPPORT
(612) 216-4152
Top 100

Clubfitters
2013
Top 100

Clubfitters
2013
Top 100

Clubfitters
2013
Studio "B"
Certified
2nd Swing Golf Wins PING Club Fitting Award
PING Golf is unquestionably the leader and pioneer in custom golf club fitting among major golf manufacturers. The company pretty much invented custom fitting for the masses in the mid-'70s with its system of colored dots, which appear on every off-the-rack club to denote length, loft, lie angle and grip size. Before this, golfers didn't know better than to expect a one-size-fits-all approach when they purchased clubs. PING's trailblazing path to delivering more golfers game enjoyment forced the entire golf industry to rethink its commitment to customer satisfaction.With this illustrious history in ming, 2nd Swing Golf is proud to announce it's been named a PING Regional Fitter of the Year for 2012, the second time in four years that the company has received this award.
   PING club fitting has come a long way since the days when company founder Karsten Solheim asked customers what their favorite club was and used that as a guide to building their set. These days, golfers who step into 2nd Swing's PING nFlight Fitting and Performance Center have thousands of head, grip and shaft combinations to pick from. As the golfer hits balls down a virtual driving range, 2nd Swing's certified fitters observe and analyze each shot. Using that data, fitters can educate the golfer about his or her golf game and match them with the precise clubs to improve on-course performance. More than 2,000 golfers have been fit on this interactive system, helping them play better and get more enjoyment out of the game of golf.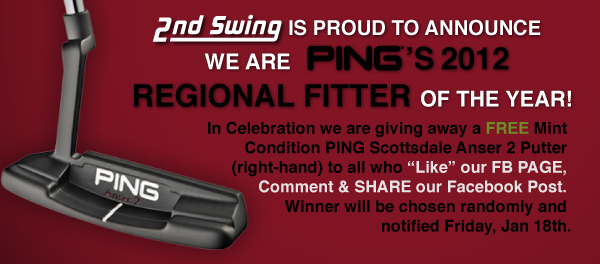 To celebrate this award and its continuing partnership with PING, 2nd Swing is running a Facebook contest giveaway of a mint-condition PING Scottsdale Anser 2 putter. All you have to do is follow this link to Facebook, share our Fitter of the Year post and add a comment relating your favorite PING experience or club.
---